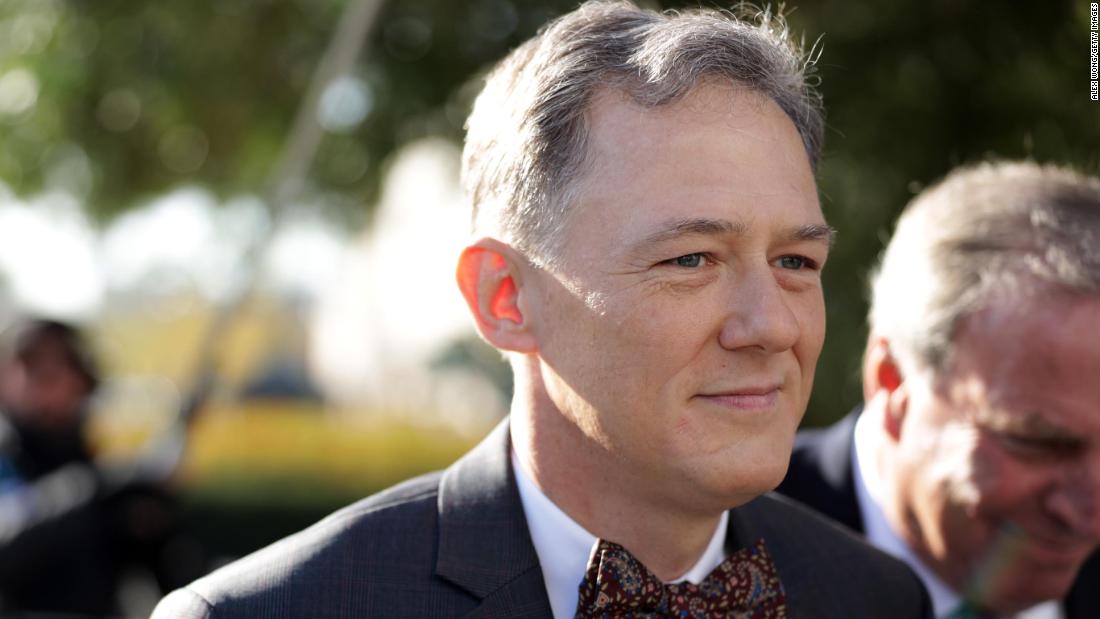 (CNN)A State Department official told lawmakers that Rudy Giuliani's attacks were part of a "campaign of lies" against the former Ukraine ambassador, according to a transcript released Thursday.
"I did not, in part because after Giuliani attacked me, as well as (then-US ambassador to Ukraine Marie) Yovanovitch and the entire embassy, in his late May interview, I was told to keep my head down and lower my profile in Ukraine," Kent testified in October.
Kent's testimony provides new details on the reactions inside the State Department to Giuliani's efforts inside Ukraine that Kent and others say ran counter to US foreign policy. It also adds insight into the work that then-US special envoy to Ukraine Kurt Volker and US Ambassador to the European Union Gordon Sondland did with Giuliani. The three coordinated a draft statement for Ukrainian President Volodymyr Zelensky to announce investigations into the 2016 election and Burisma, the company that hired former Vice President Joe Biden's son Hunter Biden.
And Kent's testimony sheds new light on instances where Volker appeared to press the Ukrainians to announce investigations if they wanted to secure a White House meeting, as well as Trump's desire for Zelensky to "say investigations, Biden, Clinton" in announcing an investigation. Kent testified that he believed there was a quid pro quo linking a meeting to the investigations — bolstering the views of other key witnesses — though he said that he didn't see US military aid to Ukraine as part of the equation.
Kent is one of three witnesses who will testify publicly next week when the House impeachment investigation into Trump and Ukraine shifts into the public phase. The deposition transcripts of Taylor, who will be testifying along with Kent on Wednesday, and Yovanovitch, who will appear publicly Friday, were released by House Democrats earlier this week.
In his deposition, Kent said that Volker told him in July that he was engaging with the President's lawyer because of Giuliani's "influence on the President in terms of the way the President thought of Ukraine."
Kent said he asked Volker why he would be reaching out to Giuliani, given Giuliani's public efforts to investigate former Biden and his attacks on Yovanovitch.
"And Kurt's reaction, or response to me at that was, well, if there's nothing there, what does it matter? And if there's something there, it should be investigated," Kent said. "My response to him was asking another country to investigate a prosecution for political reasons undermines our advocacy of the rule of law."
Volker told Kent that he felt it was worthwhile engaging with Giuliani because of his influence on the President's thinking about Ukraine.
"What I understood was Kurt was thinking tactically and I was concerned strategically," Kent said.
Kent said that Sondland's "freelancing" on Ukraine caused concern inside the State Department.
"They were aware of the challenge of dealing with Ambassador Sondland who has a, I would say, track record of freelancing, would be one way of putting it, but working on issues other than the reason why he was sent to Brussels to work our relationship with the European Union," Kent testified.
'Investigations, Biden and Clinton'
Kent's testimony provided Democrats with corroboration of a key part of their impeachment case against the President: that Trump wanted Zelensky to announce an investigation that would help the President politically.
Taylor's testimony that Trump had told Sondland he wanted Zelensky to "go to a microphone" matched up with Kent's testimony about what Taylor had described to Kent in September.
"POTUS wanted nothing less than President to go to (a) microphone and say investigations, Biden, Clinton," Kent said, later adding that Clinton was shorthand for the 2016 election.
Kent, however, did not have as much insight into whether the investigation was tied to aid, as Taylor testified and Sondland revised his testimony to link together.
"That was not clear to me," Kent said. "I wasn't part of this exchange."
While Kent said he did not associate US security aid with the Ukraine investigations into Trump's political rivals, he testified that he did think the aid was linked to a one-on-one meeting between Trump and Zelensky, though he said that was his "personal opinion" of the matter.
Still, the State Department official said that the readout of the July 25 call between Trump and Zelensky was "different than any readout call that I had received."
The readout, which came from Lt. Col. Alexander Vindman, who also testified earlier this month, did not include specifics like the Bidens or Burisma, Kent said.
But Vindman told him that "the conversation went into the direction of some of the most extreme narratives that have been discussed publicly."
"He actually said that he could not share the majority of what was discussed because of the very sensitive nature of what was discussed," Kent testified.
Giuliani's work in Ukraine dated back months
Kent testified privately before House lawmakers on October 15, and he appeared under subpoena despite State Department orders not to cooperate with Congress.
Kent explained in his testimony how Giuliani's work in Ukraine dated back months before the July phone call and its aftermath, including learning in January that Giuliani had been in touch with the State Department regarding the denial of a US visa for former Ukrainian Prosecutor General Viktor Shokin, and even attempted to call the White House as part of that effort.
Kent said that Shokin was "well and very unfavorably known" to the State Department, and the visa ultimately was not approved.
Kent also described Giuliani's relationship with former Ukraine prosecutor general Yuriy Lutsenko as "a classic, you scratch my back, I scratch yours, issue."
"Based on what I know, Yuriy Lutsenko, as prosecutor general, vowed revenge, and provided information to Rudy Giuliani in hopes that he would spread it and lead to her removal," Kent said. "I believe that was the rationale for Yuriy Lutsenko doing what he did."
Giuliani enlisted both Shokin and Lutsenko as part of his campaign against Yovanovitch. Internal State Department emails that were turned over to Congress showed that Kent rushed to the defense of Yovanovitch earlier this year when she was the target of attacks from Giuliani and other Trump allies. Top officials asked Secretary of State Mike Pompeo to defend Yovanovitch, but he stayed silent, and she was pulled from her post in May.
Kent's testimony builds on past testimony from other key witnesses who said they did not find Lutsenko's claims to be credible. While senior State Department officials scrambled to deal with the fallout from Lutsenko's allegations, Trump and Giuliani were promoting his theories on TV and social media.
A
career diplomat
since 1992, Kent is the deputy assistant secretary in the European and Eurasian Bureau, and oversees State Department activities for six countries, including Ukraine. Kent is one of 15 current and former Trump administration officials who have given
closed-door depositions
in the inquiry so far. His transcript is the sixth that the Democrats have released.
This story has been updated with additional developments Thursday.
Original Article : HERE ; The Ultimate Survival Food: The Lost Ways
The best offers on the market today:
French Sciatica Sos - Sciatique Sos (tm) + $50 Bonus, Just Launched!
Gimnasia Facial "lifting Sin Cirugía". 90% De Comisión!
No Excuses Body Makeover Membership
How To Inspire Your Husband To Stop Looking At Other Women